I want to run Ubuntu virtual machine on OS X, but don't want to pay for Parallels Desktop. So I was searching for few alternatives, and stumbled across one such tool. This one is called "
Q
" (pronounced "kju"). I installed it, and was able to create an Ubuntu virtual machine effortlessly. Even easier than
VMware Workstation
.
So I now have Ubuntu running under Mac OS X, with the help of Q.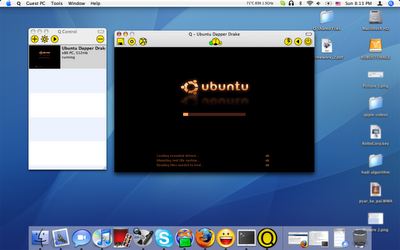 Then I also tried Ubuntu and Kanotix Live CDs in Q - Both of which worked flawlessly. I tried installing Windows 98 SE in Q just for the sake of experimenting, but it wouldn't boot from a bootable CD! Don't know why!
In a nutshell, If you want to run another OS on your Mac without rebooting, Q is a formidable candidate.